Flood lights have come a long way in the past couple of years with LED technology. When LED's were first introduced they were very useful and good for lower brightness, products like globes or LED strip lights achieved this. This was because they were not as efficient as they are now. If the manufacturer turned the brightness up on the LED's they simply would burn out. I know first hand that manufacturers lost a lot of money in testing the early developments of LED flood lights because they would burn out within a year. Rest assured, they now perform more efficiently and last considerably longer. In this blog I will run through which LED flood lights to purchase and which specs to look out for before buying. 
LED Chips - As discussed earlier with the LED chips, I can easily say SMD LED flood lights last much longer then COB LED flood lights. The difference is SMD uses many little LED chips rather then one big LED chips, as you can see in the image below, running SMD chips means that they can operate at much lower temperature which avoids burning out the LED flood light. 
Wattage - It is very important to get right the brightness and coverage for the application. Each flood light is different, with some running more efficiently than others. With most LED products you should work off the lumens and not the wattage. LED flood lights can jump large amounts each wattage, so they will roughly all the do the same job. A rough guide to work off would be the following:
10 x 10 meter area - 10w LED Flood light 
20 x 20 meter area - 30w LED Flood light
30 x 30 meter area - 50w LED Flood light
50 x 50 meter area - 100w LED Flood light
100 x 100 meter area - 200w + Flood lights
Beam Angle - Now this point is more just a consideration for you to make, as almost all LED flood lighting has a wide beam angle of 180°. We have had many customers say there flood light turned out much brighterthan expected and lights up the neighbours backyards which may not be wanted. Try and install the flood light in a central spot of the building or using two smaller LED flood lights on either side. The higher up the LED floodlight is installed, the more the beam angle will be increased.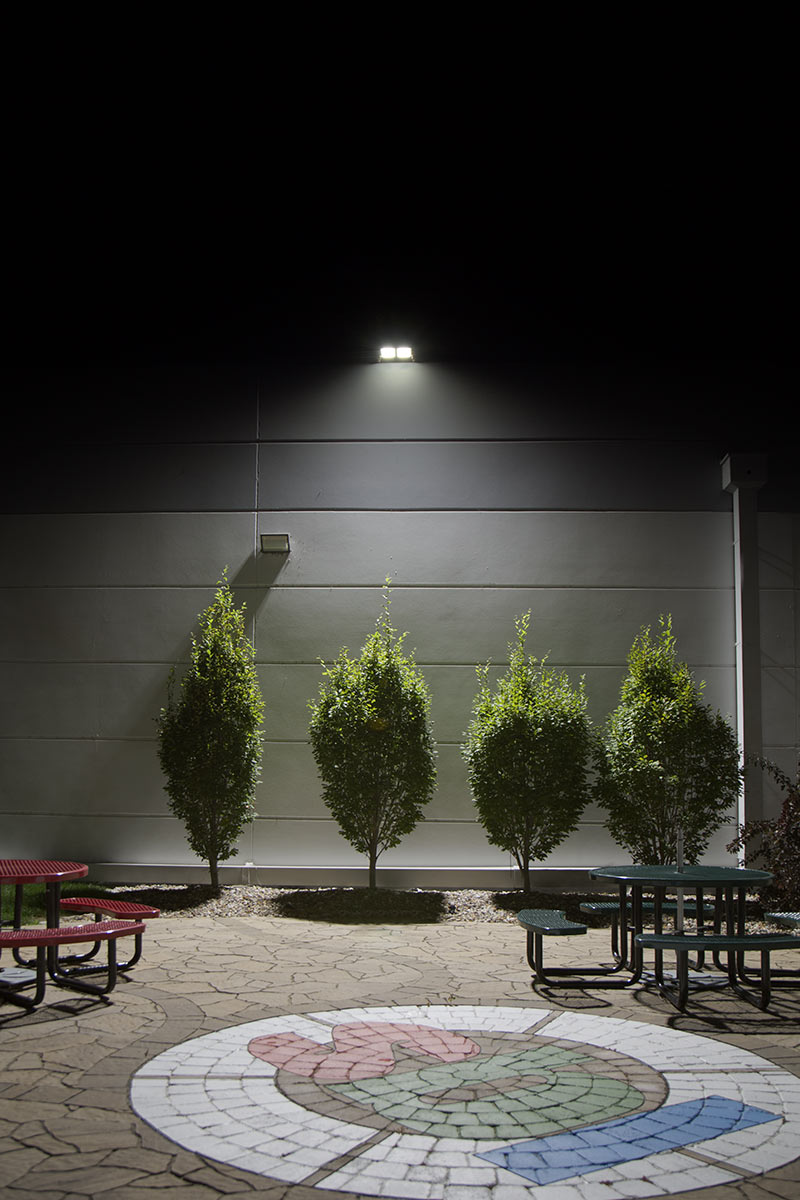 100w LED Floodlight - Illustration from superbrightleds.com
Sensor LED Flood light - Almost every LED flood light model now comes with the option to have a sensor included, or to wire up an external sensor to the flood light. Having a sensor LED flood light is a great option because it will save power and it also allows you to change thesensitivity and time the flood light stays on for. Another sensor LED flood light option is to get a dusk to dawn sensor so that the light will only come once dark and turn off at sunrise. 
IP Rating -  Always look to go with a minimum IP54 LED flood light, preferably a higher IP rating of 65 to avoid water and dust getting into the fitting. Because LED flood lights are built in, once they die you will need to replace the whole light, so make sure you get a high IP rating .
Brand - Buying lighting fromquality brands is crucial and as discussed in the last point about the LED's being integrated, you want to make sure you buy something that will last. Flood lights can vary a whole heap in price and quality and can easily become confusing.
Colour Temperature - This is an important consideration to make as it will change the applicationconsiderably. If you are looking to have the application as clear and bright as possible, then look to go with around a 5500k kelvin, this will give off a pure bright white colour. This LED flood light temperature will suit carparks, sporting fields or work environments. If you want the application to be more warmer then look to a 4000k, this will give off a natural colour of light which will suit almost every application. If you want your area to have more mood and ambience then look to go with a 3000k warm white, this will give off a relaxed look. 
 LED flood lights are a practical solution for throwing lots of light with good coverage. Most LED floodlights include a DIY plug, so you can actually install yourself. Nearly all LED floodlights also include an arm bracket, so you can point to the desired direction. If you want to extend even further to highlight you could like at an extending arm like below.
Now you have all the specs to look for before buying your floodlights. Now I will run through our 5 most trusted LED flood lights. 
1. The Array HV3729C - This LED flood light by Havit is in it's second year now and they haverevolutionised floodlights from being ugly and bulky to slim and smooth. This LED flood light has a full glass face and a solid aluminium backing which oozes quality. This has been our best selling floodlight by far this year, as soon as our customers see this in our showroom they are very surprised of the look compared to the typical floodlight look. This flood light comes in a 10w, 30w and 50w at 4000k colour temperature. All of these great features, at a veryattractive price, and if it's made by Havit, you know it will be worth your while.
 2. The Hornet CFL40840 By Crompton Lighting - This LED floodlight is also in its second year and has been revolutionised with a simple and unique look, purposefully designed to disappear and not be noticed. All this without putting out a strong performance of 3500 lumens for the 40w and having a low glare light. This LED flood light has an IP66, meaning no water or dust will penetrate this light. When a light has a high IP rating it is a very good indication it has been made well. Crompton have been around forever and are in a league of their own. So you know you have purchased a quality fixture when buying Crompton Lighting. 
3. Starpad SE7071 Sunny Lighting - This LED flood light is a go to for tradies, due to its high quality and great price. The design is simple and slim. This LED flood light doesn't just look great but also runs efficiently, putting out a high 2500 lumens for a 30w. SAL is one of Australia's most trusted brands, we get next to no returns on SAL's products, which is why we promote them so much to our customers. 
4. Tivoli MX10150/RGB By Mercator - This flood light by Mercator is a new model in. We wanted to give it a mention as it's a very unique design and function. This model is a RGB model, which can run 1000's of colours with the remote included. This RGB LED flood light would be great for a party of entertaining. 
5. PL-Stellar Solar Dusk To Dawn Sensor - This fixture is not so much a flood light but is a small wall fixture which can light up small passageways for free. No wiring needed at all, this light is a solar LED wall light which only turns on when dark and once the batteries run out in the morning will then charge back up for the next day. Our customers really love this fitting for it's great price and practicability. This LED solar light also is polycarbonate which means it will not rust what so ever.